OTHER RECIPES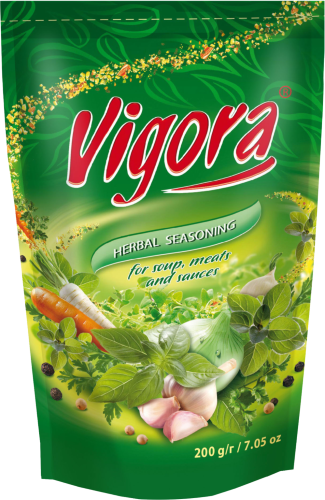 VEGETABLES
Zucchini stew
Ingredients:
1 large zucchini (or squash)
3 medium-sized sausages
4 tomatoes
2 onions
3 peppers (green yellow and red)
150 g mushrooms
cooking oil
1 small tomato paste tin
bay leaf, oregano, herbs of Provence, a pinch of sugar, sweet and hot paprika
Vigora all purpose universal seasoning

Preparation:
Wash courgette (zucchini), clean it and remove the skin from the flesh with seeds. Zucchini (courgettes) cut into large cubes cut. So needless to cut sausage. Onion peel and cut into rings. Heat the oil in a frying pan, fry the onions until golden brown, add the chopped sausage and fry it with onions. Steamed tomatoes and cleanse them from the skin. Insert them in a large pot. Wash peppers, remove seeds, cut into pieces and add to the pan with the tomatoes. Wash mushrooms, cut them into slices and put them in a pot, pour a little oil, add a little tomato paste, bay leaf, oregano, olive herb seasoning Vigora universal and mix everything. Simmer in a lidded saucepan, over low heat until the zucchini and peppers are tender. At the end of the season with a sweet and spicy pepper. If the dish will be too thick, you can add a little water to lecho not burnt during fire.
Serve with baked goods.