OTHER RECIPES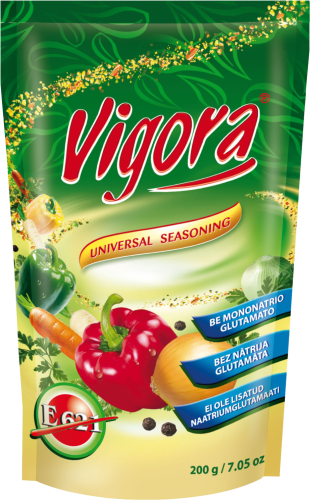 MEAT
Honey-glazed tenderloin with vegetables
Ingredients:
2 medium pork tenderloins
2 tbsp honey (e.g. lime-tree)
3 tbsp light soy sauce
rosemary
olive oil
8 cherry tomatoes
1 green cucumber
lettuce
ground black pepper
Vigora all purpose universal seasoning

Preparation:
Mix honey, soy sauce, 1 heaped tablespoon rosemary and 1 teaspoon Vigora all purpose universal seasoning and let stand for 10 minutes. Then rub the glaze into washed and dried tenderloins. Fry them on each side for approx. 10 minutes, until the glaze caramelizes. Preheat convection oven to 200 degrees C and bake the meat for 10 minutes. Once baked, take the meat out of the oven and let stand for 5 minutes.
Cut cherry tomatoes in half, cucumber in thick half-slices and tear lettuce into pieces. Sprinkle with olive oil, season with pepper and mix at the end. Cut the tenderloin into slices and garnish with vegetables.